ビジネス情報
The Army has stood down from supporting the Metropolitan Police after hundreds of officers had stepped back from firearms duties.
Officers from other forces were also drafted in to help, but the Met said in a statement today that enough have returned to duty:
"As of lunchtime on Monday, the number of officers who had returned to armed duties was sufficient for us to no longer require external assistance to meet our counterterrorism responsibilities."
"A limited number of armed officers from other forces continued to support its non-counterterrorism armed policing."
The Ministry of Defence has been forced to offer soldiers to support armed police in London after more than 100 officers turned in permits allowing them to carry weapons.
There are currently more than 2,500 armed officers in the Met. This action was taken after an officer was charged with the murder of unarmed Chris Kaba, 24, last week.
Kaba's death prompted several protests demanding justice, particularly among London's black communities.
The Met Police officer, who cannot be named for legal reasons, appeared at Westminster Magistrates' Court on Thursday.
However, his conviction has some officers "worried" about how the Crown Prosecution Service's decision to bring a charge "impacts on them".
Historically, it is relatively unusual for police officers to be charged with murder or manslaughter. According to the charity Inquest, since 1990 there have been 1,869 deaths in or following police custody in England and Wales.
Of those, there have been just 12 cases where an officer has been charged with murder or manslaughter.
Met chief Sir Mark Rowley welcomed a Home Office review into armed policing but claimed that the current system was undermining his officers and suggested they needed more legal protections.
In an open letter to the home secretary, he said it was right his force was "held to the highest standards", but also criticised the pace of the justice system, saying that "even when officers followed their training and tactics, they could still end up facing years of protracted legal proceedings."
In a show of apparent solidarity with their Met police colleagues, many City of London Armed Response Vehicle officers also decided to stand back from armed duties last week.
A source said the situation with Counter Terror Armed officers was exacerbated by a visit from one of the Met's Deputy Assistant Commissioners.
Those elite firearms officers had said they would continue to respond to threats to life and terrorism incidents.
The source claims the senior officer said, "It doesn't work like that" and so every Counter Terrorism Firearms Officer on duty handed in their firearms authorisation tickets.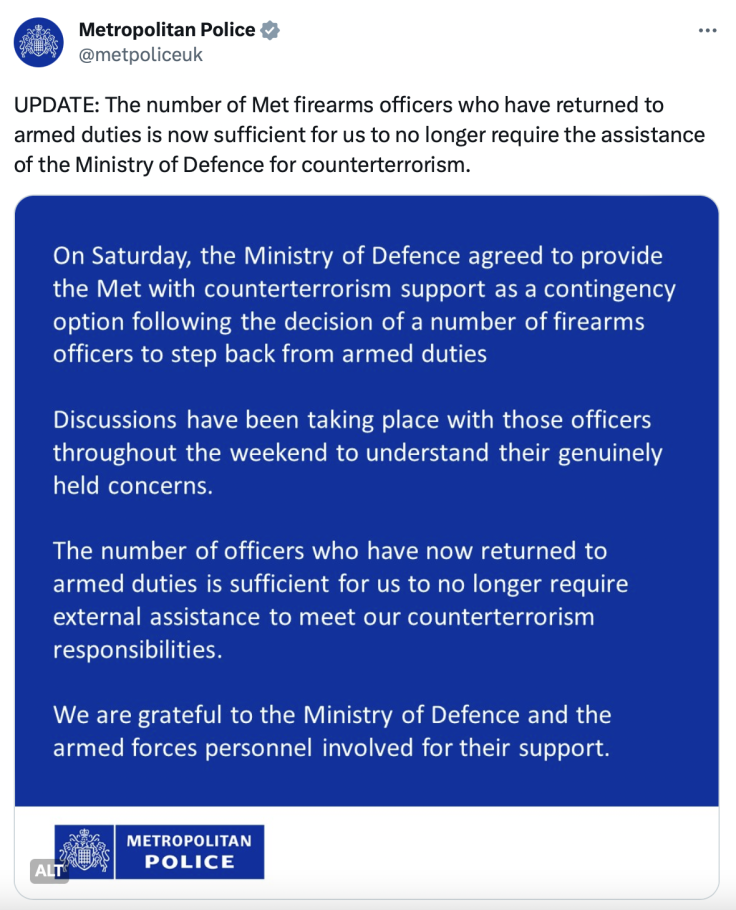 Referencing the escalating situation, The Met Police posted this morning: "We are aware of media reporting suggesting that all Met firearms officers have stepped back from armed duties."
The statement continued: "This is not correct. There are armed Met officers, including counterterrorism officers, on duty across London."
However, they also confirmed that officers were concerned over a "shift in how decisions they take in the most challenging circumstances will be judged".
In response to these fears, first raised by Rowley yesterday, Home Secretary Suella Braverman issued a statement in which she said we "depend on our brave firearms officers to protect us".
"In the interest of public safety, they have to make split-second decisions under extraordinary pressures."
She added that officers have her "full backing" and that she would do "everything" in her power to support them.
On Monday, the prime minister backed the home secretary's review, adding that armed police need "clarity".
Speaking in Hertfordshire, Rishi Sunak said: "Our firearms officers do an incredibly difficult job. They are making life or death decisions in a split-second to keep us safe and they deserve our gratitude for their bravery."
According to London Assembly figures, in April there were 2,595 authorised firearm officers in the Met Police.
It is a figure which has steadily decreased every year since 2018 when there were 2,841 licenced to carry a gun.
However, the behaviour of the force has come under increased scrutiny in recent years, facing unprecedented pressure to reform after the conviction of officers for murder and rape, alongside evidence of widespread sexism and misogyny in its ranks.
More than 1,000 Metropolitan Police officers are currently suspended or on restricted duties, the force has said. The crackdown follows convictions of former officers David Carrick, a serial rapist, and murderer Wayne Couzens.
In figures described as "eye-watering", the Met – Britain's largest force which employs 34,000 officers – also revealed that in the past year, 100 officers have been sacked for gross misconduct – up by 66 per cent on the normal rate. And the 201 officers currently suspended represent a rise from 69 in September 2022.