ビジネス情報
Home prices have taken a tumble in several major cities around the world, but many are overvalued and risk entering "bubble" territory, according to a new UBS report.
As interest rates and inflation surged over the last two years, many people have found it more expensive to buy a home. That has helped to lower home prices in some cities across the world, while other metropolitan areas continue to experience elevated prices. 
"Low financing costs have been the lifeblood of global housing markets over the past decade, driving home prices to dizzying heights. However, the abrupt end of the low interest-rate environment has shaken the house of cards," according to the eighth annual UBS Global Real Estate Bubble report.
"On average of all cities, within the past year, inflation-adjusted home prices have seen the sharpest drop since the global financial crisis in 2008," the report noted.
Many cities that were included as being in bubble territory last year — such as Toronto and Frankfurt — are no longer on that list, UBS said. 
This year, Zurich and Tokyo top the list of overvalued housing markets, and are at risk of being a bubble.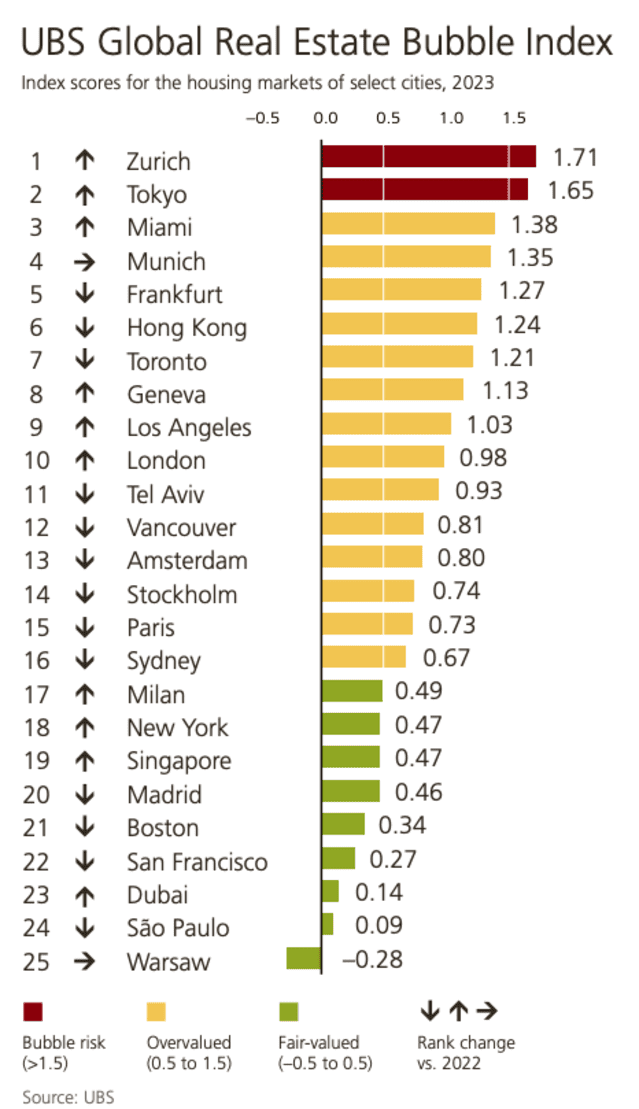 UBS defines a "bubble" as a "substantial and sustained mispricing of an asset, the existence of which cannot be proved unless it bursts." 
The UBS ranking is based on five factors: price to income, price to rent, the change in mortgage-to-GDP ratio, the change in construction-to-GDP ratio and the relative price of the city to the country.
In Zurich, residential properties cost 40% more than a decade ago, in real terms. In contrast, rents have risen by 12% over the last 10 years. "The relationship between purchase prices and rents remains out of balance — especially considering the higher interest-rate environment. The market, therefore, stays in the bubble-risk zone," the report said.
Tokyo was the No. 2 most overvalued housing market, UBS said. Imbalances in the Tokyo market have "increased from undervalue 20 years ago to bubble risk now," the bank said.
UBS researchers also looked at five U.S. markets in their global report: Miami, Los Angeles, San Francisco, Boston and New York. 
Even though none of the U.S. markets were at "bubble risk," Miami's housing market looks overvalued, as the city continues to attract buyers from across the world, UBS said. 
Home prices in Miami rose faster than the rest of the nation, doubling over the last 10 years, UBS noted. "Demand is bolstered by continued population influx, and the still relatively low absolute price level compared to incomes." 
Los Angeles is the only other U.S. city on the overvalued list. The West Coast city is "suffering: from a broad loss of economic competitiveness "due to its significant exposure to the technology and entertainment sectors, quality of life challenges, adverse tax legislation, and high costs of living," UBS said. 
The housing market is at a crossroads in many cities around the world. Even though many global cities have seen a drop in home prices over the last year, there is "more downside in real house prices," UBS warned. "However, a housing shortage has set the stage for a renewed boom in many cities — if interest rates fall."