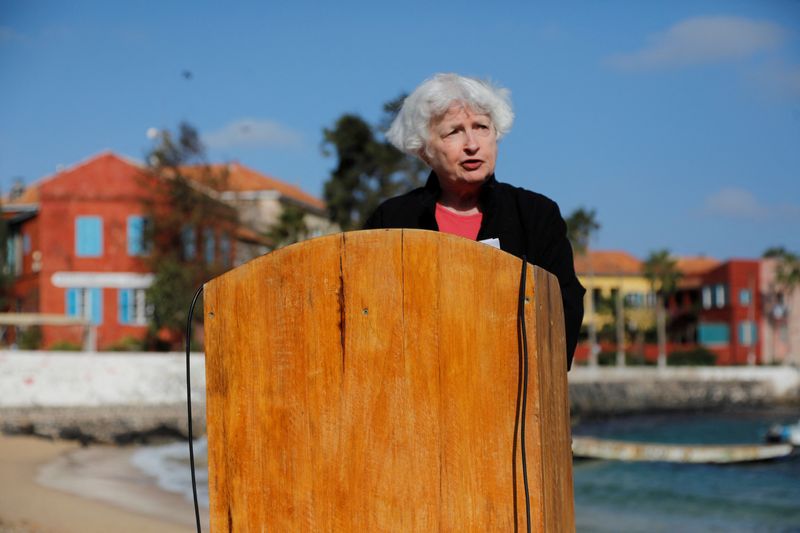 © Reuters. U.S. Treasury Secretary Janet Yellen gives a speech after she visited the House of Slaves (Maison des Esclaves) at Goree Island off the coast of Dakar, Senegal January 21, 2023. REUTERS/Ngouda Dione

By Andrea Shalal
LUSAKA (Reuters) -U.S. Treasury Secretary Janet Yellen said on Monday during a visit to Zambia that it was critically important to restructure the country's debt, and she believes progress could be made after her frank talks with key creditor China last week.
Yellen added that Zambia's debt overhang was a drag on its whole economy and that China had been a barrier to resolving the southern African country's debt problem.
However, she said she was encouraged that progress could shortly become possible following her meeting with Chinese officials in Zurich last week.
"I specifically raised the issue with Zambia (with Chinese officials) and asked for their cooperation in trying to reach a speedy resolution. And our talks were constructive," Yellen said.
She told Zambian Finance Minister Situmbeko Musokotwane that the timely finalisation of Zambia's debt treatment was a top priority for the Treasury.
"We will continue to press for all official bilateral and private-sector creditors to meaningfully participate in debt relief for Zambia, especially China," she said.
Yellen said she was keen to continue talks with Musokotwane and other Zambian officials about the country's "impressive progress" on economic reforms, and how regional economic integration and deepening trade ties could support the country's growth.
However, Musokotwane said at the start of a bilateral meeting with Yellen that the debt restructuring process has been moving slowly and its outcome was not certain.
Calling for the help of global leaders to move the restructuring process forward, he said it was needed to create conditions conducive to investments and to reduce pressure on Zambians to migrate.
During a meeting with President Hakainde Hichilema, who took charge in August 2021, Yellen told the Zambian leader a debt treatment deal under the Common Framework was "overdue".
A senior Treasury official, speaking on condition of anonymity, said U.S. officials believed progress was possible soon given intensified discussions with China.
However, there were two main sticking points with China, the official added: Beijing's insistence that local debt owned by foreign investors be included, and that multilateral development banks also take a haircut – both of which points have been rejected by the United States, Zambia and other countries.
Yellen told reporters it was important for Zambia to address corruption and human rights, and to create a business environment that would promote investment and trade.
She lauded Hichilema for making the fight against corruption an important part of his agenda.
"It's something that needs continued focus," she said. "I would say the work isn't done, but there clearly has been an important focus on it."
In response, the Chinese Embassy in Zambia said "the biggest contribution that the U.S. can make to the debt issues outside the country is to act on responsible monetary policies, cope with its own debt problem, and stop sabotaging other sovereign countries' active efforts to solve their debt issues."
The comments were made in a post on the embassy's official website on Tuesday.
Yellen's meeting with Musokotwane took place at Zambia's finance ministry, where large signs with slogans such as "This is a corruption-free zone" and "Say NO to corruption. Integrity is a virtue" were on prominent display in the hallways.
Yellen is on a three-country visit to Africa. In Senegal, she said Russia's war in Ukraine was hitting Africans particularly hard by exacerbating food insecurity and putting an unnecessary drag on the continent's economy.