イギリス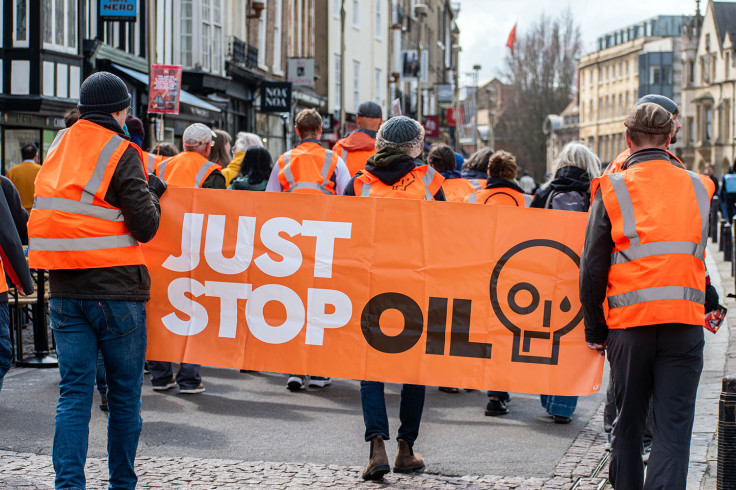 At approximately 19:20 on Monday, two Just Stop Oil protesters disrupted the World Snooker Championships at the Crucible Theatre in Sheffield. The two protesters, a 52-year-old former museum professional from Kendal, and a 25-year-old politics, philosophy and economics student at the University of Exeter, climbed onto the snooker tables and covered one with orange powder paint. They were later removed and arrested.
The direct action comes after G7 Climate and Environment Ministers met in Sapporo, Japan, to discuss the drive to clean energy and net zero in the spirit of the Paris Agreement, with a commitment made to the "swift" implementation of the "Global Biodiversity Framework".
According to findings by search engine specialists at Digital Funnel, internet search terms pertaining to Monday's dramatic events spiked following the protest.
For example, the term "What happened at the Snooker" saw a 2400 per cent spike at approximately 8 pm. Furthermore, searches for "Just Stop Oil" increased a notable 4900 per cent and searches for "Snooker" also increased by 1328% in 24 hours. Searches for the terms "Crucible" and "Orange Powder" also saw increases of 3233 per cent and 1566 per cent respectively. These increases indicate that Monday's events caught some level of public attention.
In a radical press release entitled "New oil and gas will snooker us", Just Stop Oil explains that the protestors were acting against the UK government's "genocidal policies", demanding an end to all new fossil fuel projects in the UK. Just Stop Oil want an end to any future UK "exploration, development and production of fossil fuels".
They are calling on UK sporting institutions to join with them in resisting the UK government.
One of the protestors, 52-year-old Margaret Reid, said that she did not wish to remain a "passive spectator" whilst the UK government "pushes us down a path to destruction." She claims the government are providing "handouts of £236 million per week" of taxpayers' money to "the most profitable industry on earth," and that for her, watching from the sidelines is not an option, with "disruptive action" the only way to disseminate the message of Just Stop Oil.
The other protestor, 25-year-old Eddie Whittingham, said that sitting back "as if everything's OK" is not an option, advocating that those who wish to take action should sign up and get involved with Just Stop Oil at a London slow march from April the 24th.
More specifically, Whittingham refers to the "worst drought in 500 years" in Europe, "mass crop failure right now… mass starvation, billions of refugees" and the prospect of "civilisational collapse" as motivating factors behind his involvement with Just Stop Oil.
What is Just Stop Oil?
Just Stop Oil are an environmental protest group that uses different forms of direct action to draw the public's attention to their cause. Their campaigning began in April 2022, with 2000 plus arrests and 138 sent to prison since then. They identify as non-violent, advocating strikes, boycotts, and mass protests as forms of direct action.
Just Stop Oil states that most of its funding is from the Climate Emergency Fund which has funded 106 organisations and trained 30,000 climate activists since 2019. The Climate Emergency Fund advocates "disruptive climate activism", arguing that "gradualism" is ineffective.
Previous Just Stop Oil protests have involved covering a Van Gogh painting at the National Gallery in London in soup and interrupting formula one. On the 3rd of July last year, Just Stop Oil staged a protest at Silverstone, with protestors sitting on the track. Following a conviction for causing a public nuisance, six protestors were sentenced at Northampton Crown Court. They avoided jail sentences.
Whilst these protests may be effective at getting media coverage and public attention, the real test is whether they are effective at getting people to change their minds. Earlier this year, the protest group Extinction Rebellion declared a temporary end to public disruption in a bid to win wider support. Concerns exist over the potential for more radical protesting to alienate the public, rather than get them on their side.
Public attitudes towards Just Stop Oil
Recent research by YouGov has shed light on public attitudes to Just Stop Oil. When asked whether they possess a "favourable or unfavourable opinion" of Just Stop Oil, 36 per cent of all adults surveyed declared a very unfavourable opinion. Furthermore, 15 per cent declared a somewhat unfavourable opinion, with only 12 per cent and 4 per cent declaring a somewhat favourable or very favourable opinion respectively.
However, results differ with age. Younger respondents display more favourable attitudes. Of 18-24-year-olds, 8 per cent declared a very favourable opinion, with 19 per cent also declaring a somewhat favourable opinion. That compares to 18 per cent that declared a very unfavourable opinion and 15 per cent that possess a somewhat unfavourable opinion.
In contrast, only 1 per cent of those aged 65 plus said they had a very favourable opinion towards Just Stop Oil, with 50 per cent and 15 per cent of that age group declaring a very unfavourable opinion and somewhat unfavourable opinion respectively. Similarly, amongst 50-64-year-olds, 43 per cent declared a very unfavourable opinion, with only 3 per cent declaring a very favourable opinion.