アメリカ
The chief executive of NatWest resigned on Wednesday, leaving after admitting to leaking banking information on a conservative politician to the BBC.
Alison Rose will step down "by mutual consent," just a day after she said she was the source of a story from the BBC that Nigel Farage had his account closed because he fell below the wealth threshold for Coutts, a NatWest subsidiary that banks high-net-work individuals.
Farage, one of the highest-profile backers of Brexit, had maintained that he was forced out of the bank for political reasons.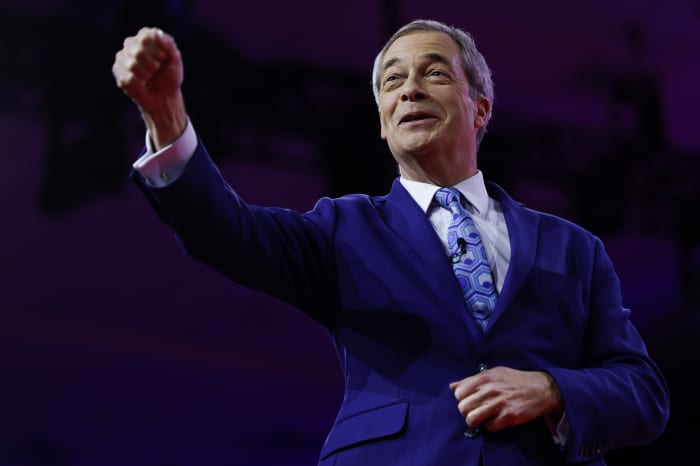 She omitted the fact that a Coutts document, which Farage subsequently publicly released, said the former leader of the UK Independence Party "did not align with our values." Rose said in a statement released Tuesday — in which she said she was staying on — that she left the BBC reporter, Simon Jack, with the impression that the decision to close his account was a solely a commercial decision.
The BBC has since said that its report was inaccurate.
Paul Thwaite, the CEO of NatWest's commercial and institutional business, will take over for an initial period of 12 months and the bank said it will look for a permanent successor.
"It is a sad moment. She has dedicated all her working life so far to NatWest and will leave many colleagues who respect and admire her," said Howard Davies, the NatWest chairman that Farage has publicly called on to resign as well. On Tuesday, the bank suggested Rose could stay if she accepted a pay cut. Farage also said Coutts CEO Peter Flavel should quit.
A government minister said Rose's resignation was the correct decision.
NatWest
NWG,
-2.95%
shares slipped 0.5%, and year-to-date, the partly U.K. government owned bank has seen its stock weakened by 5%, compared to the 3% rise for the FTSE 100
UKX,
-0.35%.